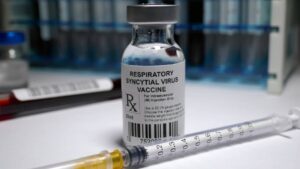 Pfizer gets the Food and Drug Administration (FDA) approval for her vaccine against the Respiratory Syncytial Virus (RSV). The vaccine will help protect infants, pregnant women, and individuals 60 years and above from the harmful effects of RSV.
RSV is a very infectious virus that affects the lungs and can lead to life threatening medical conditions like pneumonia, bronchiolitis, and congestive cardiac failure, if left untreated. Globally, every year, RSV is estimated to cause 33 million cases of infection and an estimated 199,000 deaths of children under five years.
'This is a significant milestone in public health, its the first and only maternal immunization available to help pregnant women protect their infants from respiratory illnesses cause by the virus,' says the Chief Executive Officer of Pfizer, Albert Bourla.
For more information on this visit here. To learn more about the vaccine visit here. You can learn about our previous updates by visiting here.