Introduction
Paxlovid is an oral antiviral medication developed by Pfizer for the treatment of corona virus disease.
To get the benefits of the medication you will have to take it for the recommended period.
How is Paxlovid packaged
This simply is how the medication is packed in its pack and sachet.
One sachet of the antiviral medication contains nirmatrelvir 300 mg (two 150 mg tablets) co-packaged with 100 mg ritonavir tablet.
How do I take Paxlovid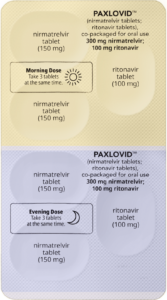 The dosing recommendation or dose regimen is how you take the medication. This specifies the quantity of the medication you should take, the number of times in a day you should take it, and for how long. This determines whether you will get the benefits of the medication.
You're advised to take two tablets of nirmatrelvir and one tablet of ritonavir. All three tablets should be taken together twice daily (every 12 hours) for a period of five days. This means you should take your first dose either in the morning or evening. This depends on the time your healthcare professional recommends.
The manufacturers recommend you consider the following when taking Paxlovid:
Do not remove your PAXLOVID tablets from the blister card before you are ready to take your dose
All tablets in a dose should be taken at once or one right after the other
Swallow tablets whole. Do not break, chew, or crush the tablets
PAXLOVID can be taken with or without food
For further information on how to get Paxlovid please contact us on 08160962414 or visit here for assistance.
You can read our previous article on three things you should know about Paxlovid here.