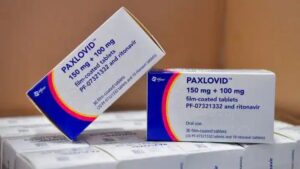 Paxlovid the antiviral medication developed by Pfizer remains a very important tool in our fight against COVID-19. This medication is important in saving the lives of patients for several reasons.
First, Paxlovid is an effective oral medication against COVID. This means it can easily be self administered by patients if guided by knowledgeable healthcare professionals on the right use of the medication. The medication has shown to reduce hospitalization and death by 89.1% and 88.9%, respectively.
Secondly, the medicine has a short duration of treatment. A five days course has proven to be effective in preventing the virus from replicating. This reduces viral load and prevents complications due to the corona virus infection.
In addition, it can be taken by almost everyone and is readily accessible. The most serious drug-drug interactions associated with the medication use are interactions with rivaroxaban and salmeterol, respectively.
Lastly, it might just be a vital tool in managing Long COVID. Some experts assume Long COVID might be as a result of persistence of the virus in the body of its host. This means if you stop the virus from replicating, you're going to get less amount of viral particles in the body of the patient.
For more information on how to use and access Paxlovid contact here.