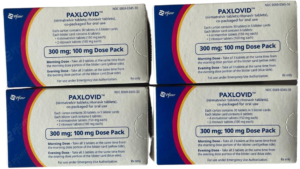 Paxlovid reduces risk of severe COVID-19 in patients with chronic health condition a new study finds. The study which was conducted by researchers at Harvard University was published in June 2023 in the Clinical Infectious Diseases Journal. This investigation will contribute to proper use of the antiviral medication in the treatment of patients in the most cost effective manner.
This study is important because as governments funding for COVID-19 treatment reduces, cost of the medication is likely to increase. This means Clinicians need correct information on cost effective means to treat COVID-19, prescribing antiviral medications for those who need them the most. The study was needed because the effect of Paxlovid on COVID-19 outcomes in younger vaccinated adults are unclear.
Researchers in the study assessed outcomes among two groups of 2,547 COVID-19 patients aged 18 to 50 years. Paxlovid was linked to a 30% lower risk of all-cause emergency department visits, hospitalization, and death among vaccinated, non-hospitalized COVID-19 patients with serious chronic conditions. In addition, Paxlovid recipients had lower rates of constitutional, cardiovascular, and respiratory symptoms than controls.
For further information on the findings of this study visit here.
To get assistance on how to get Paxlovid please call +2348160962414 or visit here