International Vaccine Institute: International Vaccinology Course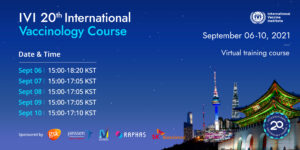 The five-day course will be held virtually and free of charge. Participants will gain a comprehensive over view of vaccinology with a focus on COVID-19, featuring lectures from distinguished experts across global health and vaccine organizations including WHO, GAVI, CEPI, U.S National Institute of Health, National Vaccine Institute Thailand, Wellcome Trust, London School of Hygiene & Tropical Medicine, Harvard University, IVI and many more.
Find out more about the course and how to register for free here.
To learn more about vaccines and opportunities in the field of vaccinology follow us:
Facebook: @inocul8
Instagram: @inocul8
Twitter: @inocul8N