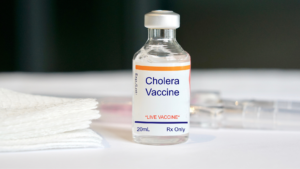 There is currently a cholera outbreak in the Ijebu North Local Government Area of Ogun State. Information regarding this outbreak was conveyed on Sunday, September 17th, to encourage people to implement preventive measures.
Cholera is a sudden-onset diarrheal illness resulting from consuming food or water contaminated with the Vibrio cholerae bacterium. It continues to pose a worldwide public health risk and serves as an indicator of social inequality and insufficient social progress.
Scientists have approximated that annually there are between 1.3 to 4.0 million cholera cases and 21,000 to 143,000 cholera-related deaths occurring globally. 
"There is a Cholera outbreak (known as Aarun òní gbá méjì) in the Ijebu North Local Government area of Ogun State. Cholera typically occurs during rainy seasons and can be linked to inadequate environmental conditions and personal hygiene. Its symptoms often include diarrhea, sometimes accompanied by vomiting, which can lead to severe dehydration. Cholera can be fatal if prompt treatment to correct dehydration is not administered," stated the Special Adviser to the governor on Health and commissioner-designate, Tomi Coker.
The effective control of cholera and the reduction of fatalities require a comprehensive approach that encompasses various strategies. This includes surveillance, improvements in water and sanitation, hygiene promotion, social mobilization, treatment, and the utilization of oral cholera vaccines.
For more information on how to access the oral cholera vaccine please contact us on 07063736485.