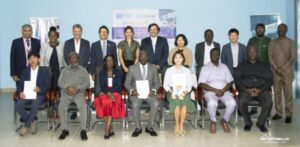 The International Vaccine Institute (IVI), EuBiologics, and DEK Vaccines Limited (DEK) signs a memorandum of understanding (MoU) for the fill and finish of oral cholera vaccine in Ghana.
Through this partnership DEK will be authorized to purchase, locally fill and finish, and distribute the oral cholera vaccine. 
As at July 2023, the WHO Regional Office for Africa (AFRO) data revealed an estimated 211, 643 cholera cases and 3, 953 deaths have been recorded in the region.
"I'm very happy with this partnership with IVI and EuBiologics through which we are going to make oral cholera vaccine in Accra, Ghana to supply Africa, and we hope to do this with typhoid conjugate vaccine as well. This partnership has been very important because it's bringing technology to Africa, and we hope that we can continue to work closely with IVI and participate in technology transfer so that we can spread it across Africa for the benefit of Africans," said Dr. Kofi Nsiah-Poku, the Managing Director, DEK, Accra, Ghana.
For more information on this report visit here.